Hi, I am Dr Stanley a private tutor for physics in Kulai. I do provide A-level Physics Home Tuition in Kulai. Currently, I do teach Physics for A-level, foundation students in Kulai.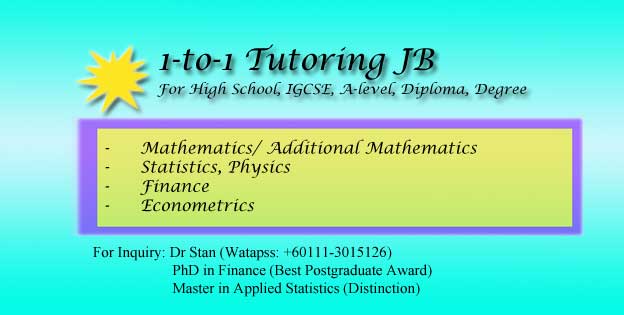 Topics for A-level Physics Tutoring Kulai
A-level Physics Home Tuition Kulai
Mechanic Home Tuition Kulai
Light Home Tuition Kulai
Sound Home Tuition Kulai
Quantum Physics Home Tuition Kulai
A-level Students
Physics Tutor in Kulai
Dr Stanley
Academic Qualification
PhD (Best Postgraduate Award), UTM
Master of Applied Statistics (Distinction), UM
Teaching Experience
Lecturer, Private University and College
Speaker, Statistics
Private Tutors, Specializing in Mathematics, Statistics, Physics, Economics, Econometrics
For enquiry, please SMS/Watapps: 017-7058496.In addition, please include your name, tuition subject and location as well.
My Tutoring service in Malaysia
Kuala Lumpur
Selangor