Hi, I am Dr Stanley. I do provide Econometrics Home Tuition in Petaling Jaya. Currently, I do teach statistics.
I have several years of teaching experience on high school students, diploma students, foundation students, degree students and also master students. In addition, I hold a PhD qualification on the field of finance and also master qualification on the field of statistics.
Thus, for those who are interested to have home tuition in Petaling Jaya with me, feel free to send in your query at 017-7058496 to have a discussion.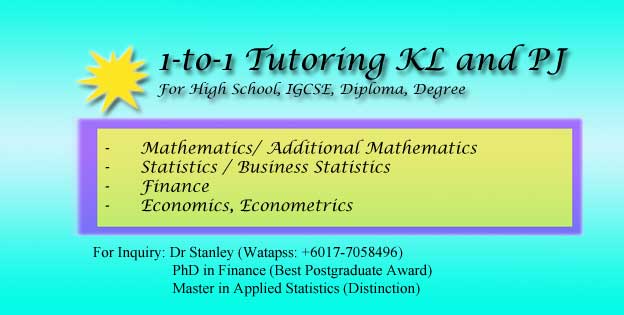 Topics for Econometrics Tutoring Petaling Jaya
Econometrics
Time Series
Business Statistics
Descriptive Statistics
Hypothesis Testing
Statistics Inference
Regression
About the Econometrics Home Tutor in Petaling Jaya
Dr Stanley
Academic Qualification
PhD (Best Postgraduate Award), UTM
Master of Applied Statistics (Distinction), UM
Teaching Experience
Lecturer, Private University and College
Speaker, Statistics
Private Tutors, Specializing in Mathematics, Statistics, Physics, Economics, Econometrics
For enquiry, please SMS/Watapps: 017-7058496.In addition, please include your name, tuition subject and location as well.
My Tutoring service in Malaysia
Kuala Lumpur
Selangor